CSUN Assistive Technology Conference Highlights
California State University, Northridge (CSUN) held its 38th Annual Assistive Technology Conference March 13th through March 17th, 2023 in Anaheim, CA. This conference is focused on cutting-edge practices in the field of accessibility and assistive technology. The attendees typically are practitioners, educators, advocates, family members, individuals with disabilities, exhibitors, etc. This year the conference held hundreds of sessions, an exhibit hall, and many networking opportunities.
School Health was proud to participate in this year's conference exhibit hall at booth number 104. I had the opportunity to represent the team along with my colleague Jodi Szuter, Specialist - Special Education, and the representatives from AbleCon as they provided real time demonstrations of the AbleCenter Camera System.
Sharing the products at our table such as the GlassOuse PRO and the Cosmo Devices drew attention from many conference attendees. The best part was meeting practitioners and school district staff looking for ideas to better serve their clients and students. We had many engaging conversations with individuals with disabilities who were looking for tools to assist their everyday lives. Their insights were helpful in understanding the variety and complexity of their needs.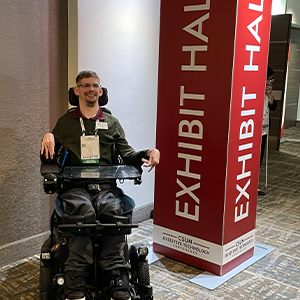 While at the conference, I made my way around the exhibit hall visiting over 90 booths. Many booths provided assistive technology equipment, software, or resources with focuses on two major areas: low/no vision and accessibility of websites and documents. There were some booths with augmentative and alternative communication devices, employment offerings/accommodations, and smart home speakers and cameras.
One thing that really stood out to me at this conference was the number of attentive and helpful staff available to assist attendees in finding their way around the venue. Wearing their bright red shirts, they were easy to find, and with so many attendees using canes and guide dogs, their individual attention was exemplary. The CSUN 39th Annual Assistive Technology Conference is already scheduled for March 18th-22nd, 2024 at the Marriott - Anaheim, CA.
On a personal note, it's not every day you meet a famous pop-culture icon but look who snapped a photo with us at this year's CSUN Assistive Technology conference! Stevie Wonder!!!