Shared with permission from the Healthy Schools Campaign.
Mary Ellen Barkman, the Medicaid Coordinator for Pinellas County Schools, the eighth largest school district in Florida, is passionate about their vision screening program. "We're saving children's lives," she says.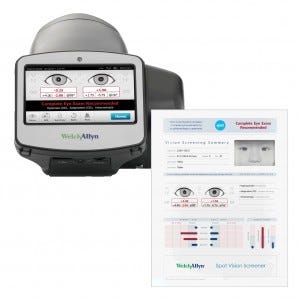 For instance, last year, there was a new student in the district, a recent immigrant from Egypt who spoke only Arabic. Her teacher struggled to reach her and felt that beyond the language issue, the girl must have some cognitive problems. As part of her special education evaluation, she was tested with one of the district's new Spot Vision Screeners. This quick screen showed that she had a serious muscle problem that caused triple vision. After she received the specialized prism glasses she needed and hearing aids for her hearing loss, she was at grade level within a year. "Without those screenings she may not have been able to reach her fullest potential," Barkman says. "With help, children can have such a bright future."
The district's investment in spot screeners is the result of careful analysis of the district's needs. Several years ago, school health services managers reported to Barkman that there was an issue with the district's protocol for vision screenings. They were inefficient and time consuming, and they simply didn't work for students who couldn't talk or who had trouble sitting still or following instructions—often the very students who needed accurate screenings the most. The district researched many options and settled on Spot Vision Screeners, which work by taking a picture of the child's eye and using it to screen for visual acuity, muscle imbalance and tumors. In fact, in the first year of using the screeners, the district identified a serious tumor in a student that had been missed by his primary care doctor. The machine creates a printout for parents that explains any follow-up services their child needs, and the district has formed partnerships with a vision van, local optometrists and the Lion's Club to provide services for children who need follow-up services after screenings. And because the screeners are so easy to use, the district's vision teams can make much more efficient use of their nurses to follow up with students who fail the screenings, rather than having to do the screenings themselves.
Barkman and the Pinellas County Schools team have woven together many different funding streams to build this unique program including Medicaid funding for the actual Spot Vision Screeners. Most of the funding comes from effective maximization of Medicaid billable services, such as Physical and Occupational Therapy, Speech Therapy, Nursing, Social Work, Psychology and Transportation and Administrative Claiming. Half of the reimbursement dollars are given to her program to spend on priorities they identify. The other half goes to operating to offset salary costs of billing providers. Because of this, Barkman works hard with her practitioners to make sure they are billing for all eligible services and maximizing Administrative Claiming reimbursement. They even developed their own electronic documentation system to make this easier. Over five years, the district has increased Medicaid revenue by $1.7 million to increase resources for students.
What's next for Pinellas County? One priority is developing a micro-credentialing system for the one-on-one assistants who work with children with multiple challenges, to give them skills for physically transferring the children, feeding, seizure monitoring, CPR and social supports. Medicaid will support an increase in their salary after achieving the credential, which will allow them to be Medicaid-claimable health assistants. This invests Medicaid dollars directly into something that meets the needs of some of the district's most vulnerable students.
"The key is out of the box thinking," Barkman says, "and the box has gotten smaller." She continues to look for ways to leverage whatever funding is available. "It's such a blessing to be able to help a child reach their fullest potential. It's important that people understand how important the Medicaid dollars are to that," Barkman says.