School Health is proud to welcome five Special Olympics athletes to our headquarters on April 18, 2023. Nate Freeman, Ashley Jones, Katie Hajost, Sam Deveraux, and Kevin Stuercke will meet the School Health team and learn what we do to help students, staff, and communities across the country.
Learn more about the athletes below!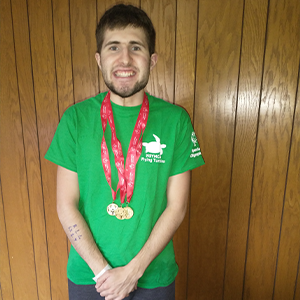 Nate Freeman
Nate has been doing Special Olympics since 2014. He has done a variety of sports through the school district, but the sport he loves the best is swimming, which he does through his local YMCA. Nate grew up in Mount Prospect, IL and attended Hersey High School and the Life program at Forest View. He loves to bake and watch videos.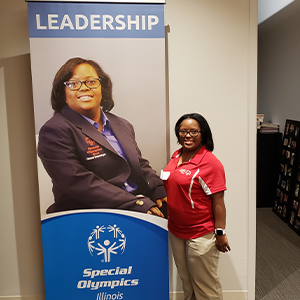 Ashley Jones
Ashley grew up in Hoffman Estates. She is 33 years old. She has participated in Special Olympics for 25 years. Ashley competes in multiple sports, but her favorites are gymnastics and golf. She won five medals in gymnastics at the Special Olympics National Summer games in Seattle, WA. in 2018: Two gold, one silver and two bronze. She was also chosen as one of the athletes who was part of the Illinois Sate Lottery Special Olympics scratch off charity ticket campaign. She was on billboards, on the internet, street signs, and bus stops.
Fun fact: Ashley's sister sent former CBS news anchorman Rob Johnson, an email stating he was Ashley's favorite news person. Since he thought he took too long to see the email, he called Ashley at home and talked to her. Since then, they have met several times.
She has also been featured in newspaper articles and publications regarding her activities, and medical discussions regarding individuals with Down Syndrome.
Her favorite activities are dancing and listening to music.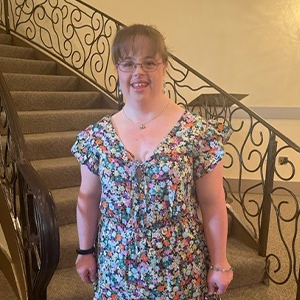 Katie Hajost
Katie grew up in Palatine, Illinois, and has been involved in Special Olympics since she was 8 years old, for a total of 29 years. Her favorite sport is swimming. Besides competing in swimming, she also competes in gymnastics and track & field.
Fun fact: When she started high school, she wanted to be on the swim team with her older sister, Jenni. Despite not knowing how to swim, the head coach said they would teach her, and they did! She competed on the Regular Ed team all through high school while competing with Special Olympics! She loved it!
Katie also loves music, old TV sitcoms, and word search puzzles.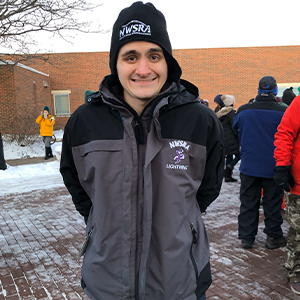 Samuel Deveraux
Samuel is a 22 year old athlete who has been enjoying Special Olympic programs since he was been four years old. His favorite Special Olympics sport is downhill skiing. He also enjoys the team sports of basketball and soccer. When he isn't playing sports, he enjoys gardening and walking his dog, Luna.