Prepare your school, staff and students for disasters and emergencies
Shop School Safety Products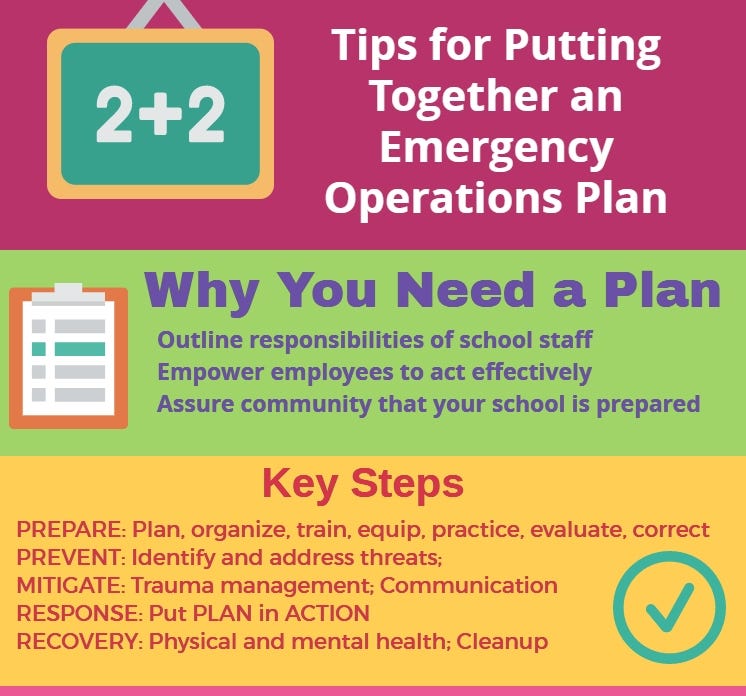 Are You Ready?
Families and communities expect that schools will keep children safe from hazards and threats.
Developing a well-thoughtout emergency plan is important to ensure an effective response and to limit harm.
This infographic outlines some important steps to be better prepared to handle emergencies at your school.

Products

School Safety Planning Guides
Developing High-Quality School Emergency Operations Plan
This guide provides recommendations in the development of plans not only to respond to an emergency, but also outlines how Schools (K-12) can plan for preventing, protecting against, mitigating the impact of and recovering from these emergencies. Developed by Federal Emergency Management Agency (FEMA), a part of the Department of Homeland Security.
Sample School Emergency Operations Plan
This document presents excerpts from a sample school emergency operations plan (EOP). This sample plan is for training purposes only and is based on a fictional school and county. It is important to tailor all emergency operations plans to the specific hazards and needs of your jurisdiction and school district.
AED webinar
Download this popular and informative webinar that provides tips to expanding, establishing and enhancing public access defibrillation programs on campus.
First Responder Guide for Improving Survivability in Improvised Explosive Device and/or Active Shooter Incidents
This Federal, first responder guidance translates evidence-based response strategies from the U.S. military's vast experience into the civilian first responder environment. Developed by Department of Homeland Security.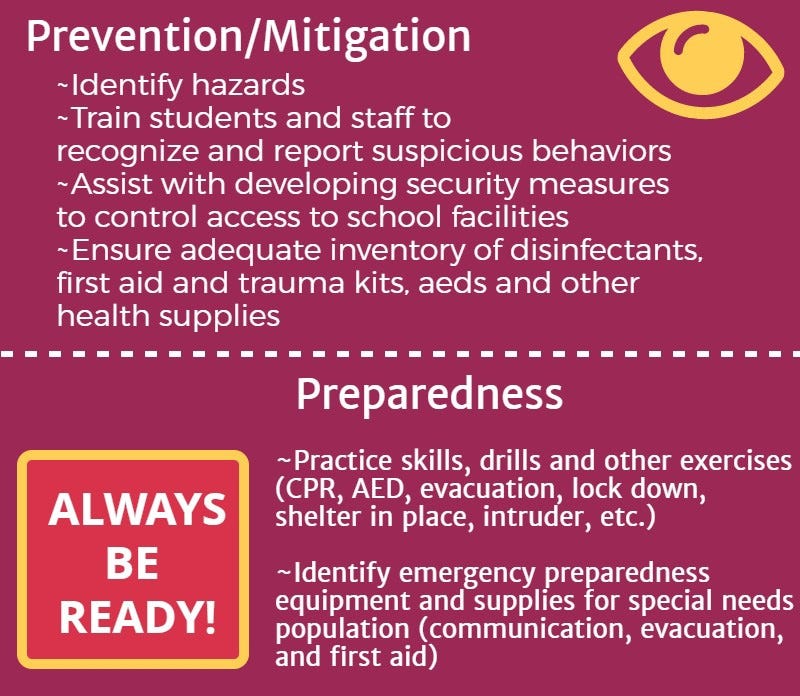 The Role of the School Nurse
School nurses play a vital part in developing and implementing emergency response procedures.
They provide leadership in all phases of emergency preparedness and response including:
Prevention/Mitigation
Preparedness
Response
Recovery

Budget Concerns
Having a budget to cover the costs for emergency training, first-aid supplies and emergency toolkits is a challenge many schools face. Some approaches you can take to increase your funding include:
Your Budget: Determine what supplies you need. Build the cost into the health or technology budget. Approach manufacturers about special programs they may offer. Reach out to your school board, county council and fire department. Remember to budget for replacement parts.
Grants: Research available government, hospitals, charity and community grants, etc. Show the giver how this fits into their mission – what is the value to them?
School Bond Money and School Foundations: Discuss options with your principal or board.
PTA/Fundraisers: Let the PTA know what you need so they can include in their fundraising agenda.
Municipal Funding Sources: Reach out to local government offices for options.
Nonprofit Organizations: Connect with various nonprofits to learn of available opportunities.
Community Donors: Involve those that have a connection to an emergency situation.

Contact Us
School Health can help you decide what supplies you need to prepare your school for emergency situations.
Request Consultation