School Nurse & Nurse Administrators
Intuitive
Easy to Learn
Easy to Navigate
Secure
Accurate
Efficient
FERPA / HIPPA compliant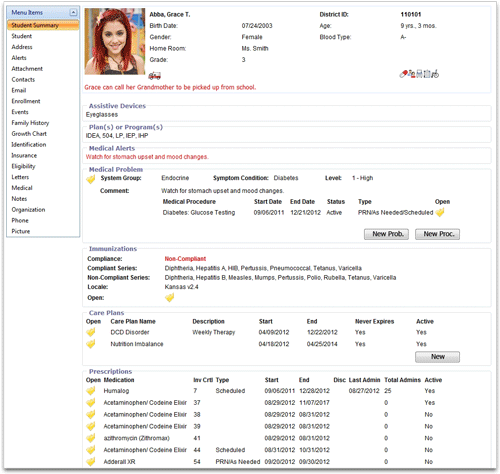 The HealthOffice Anywhere software application provided as a part of HealthOffice Anywhere Web Services is used throughout the school day to properly document, manage, track, report and where applicable bill detailed information about every student encounter with a healthcare professional.
Here Is What HealthOffice Can Do For You:
Student Summary
All important information about the student is accessible form one screen ie: general and medical alerts, PRN and scheduled prescription detail with inventory status, standing order consent, medical problems/procedures, Immunization compliance status with detail, visit history, emergency contact information, care plans, enrollment and more.
Daily Log
Sick visits, medications (scheduled and PRN), screenings (individual or group), immunizations, counseling, education, blood glucose and all diabetes care, peak flow tracking, tube feedings and any other medical problem tracking with reporting and trending.
Audit Log
A read-only Audit Log is attached as an integral part of each medical record which automatically records any changes made to the record to ensure the integrity of each record.
Medical Billing:
All student encounters are electronically documented at the time of service which result in a complete Medicaid data file without redundant paperwork or duplicate efforts,This allows for accurate claim reporting and increased revenue to the school district.
Access Log
Encompasses all students and users, as well as a student specific copy of the access log attached to each individual students' record which provides the information required by FERPA for recording all individuals accessing, creating, viewing or modifying every student record.
Templates
For quick, easy and consistent documentation.
Schedule
Entire year's scheduling of all medications and special needs services ensures fast, error-free documentation.