School Health Corporation & EnableMart Present Awards for Excellence in Education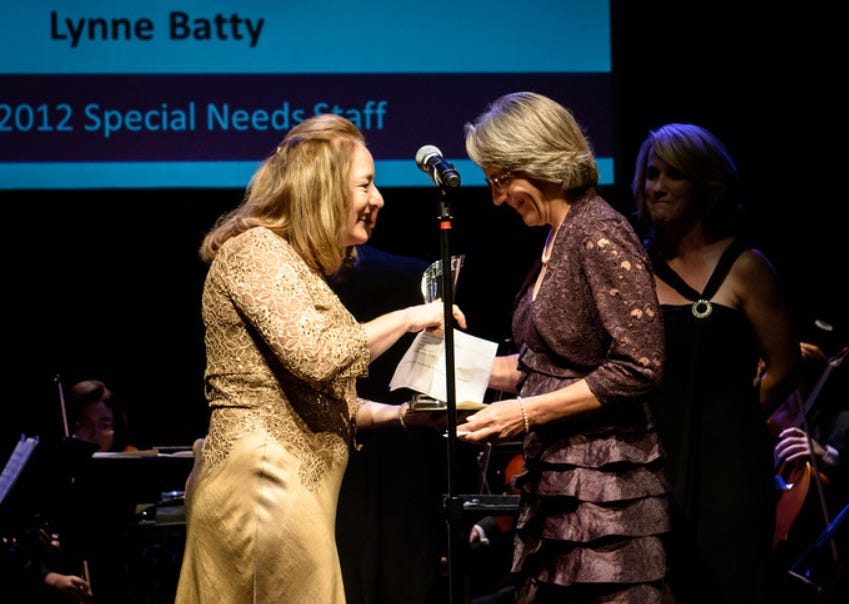 Washington, D.C. - September 16, 2012 -- School Health Corporation's husband and wife executive team, Robert and Susan Rogers joined an elite group of education thought leaders last Saturday night in Washington, D.C. for the inaugural annual Bammy! Awards. This black-tie affair was the first national award ceremony to recognize excellence in education across a multi-disciplinary platform and included awards for such categories as Special Education, Policy Writing, Innovator of the Year, School Nurse and even Building Maintenance. Robert and Susan were invited to present the awards for School Nursing and Special Education on behalf of School Health Corporation, and on behalf of their newly acquired Assistive Technology and Disability products company, EnableMart.
Rob Rogers, COO, presented the Bammy Award for School Nursing to Gail Trano from the Corlears School in New York City. Ms. Trano was recognized for always going the extra mile for the children in her care. She provides health education to all of the students at her school and has even authored several manuals that many school nurses use as their reference in both common and not-so-common situations.
Susan Rogers, CEO, presented the Bammy Award for Special Needs Staff to Lynne Batty from The Children's Center for Communication Beverly School for the Deaf. Ms. Batty is a Physical Therapist who was honored for her ability to motivate and care for each student in her very large case load as if they were the only one that mattered. She makes time to train parents on any new equipment and often makes arrangements orthotists to come into school so that parents don't need to take time off of work.
Susan Rogers, part of a long line of family members supporting educational excellence, shares "We recognize the amazing dedication of these individuals, who are raising the bar even under extreme pressures and amid a seemingly never ending stream of budget cuts and restraints. I am personally very grateful for not only those honored last night, but for all of our educators and school support staff. We hope that these awards and honors will also serve as a reminder to all of us to thank the educators and care-takers in our own communities when we recognize great efforts and outcomes."
The Bammy Awards were founded by the Academy of Education Arts and Sciences International and organized by the BAM Radio Network, which produces educational programming for the nation's leading education associations. These cross-discipline awards were created in response to the need to recognize excellence in education and highlight those educators who are producing greater student outcomes across the nation despite the intense and growing scrutiny that they face.
School Health Corporation is a family owned company that has been serving the school nurse and education community for more than 60 years. They are the first name in health supplies for schools and athletic associations, and most recently in special education through the acquisition of EnableMart, the #1 source for assistive technology.
For more information please visit www.schoolhealth.com, www.sportshealth.com, and www.enablemart.com.