Gift Cards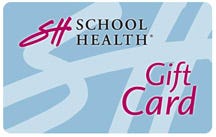 School Health Gift Cards provide a convenient way to pay for your supplies. These gift cards are a smart choice for school nurses, athletic trainers, teachers, and other health professionals with a "use it or lose it" budget. School Health Gift Cards are a great gift for your peers or staff, and a perfect suggestion for helpful parent groups.
Ordering a Gift Card
Order Online by Clicking Here
or
Contact our Customer Service Department by email or at 866-323-5465.
Redeeming a Gift Card
Gift cards can be redeemed for products purchased via mail, phone, fax or online.