Gabriel Ryan, School Health Blog Writer and Contributor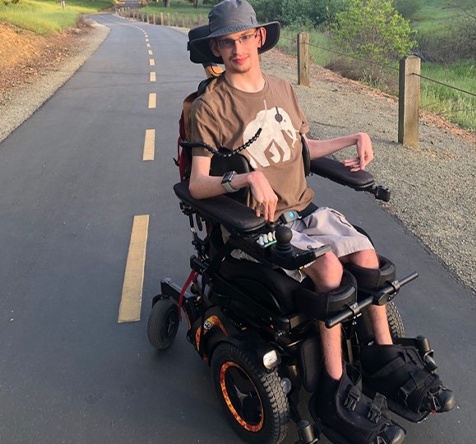 The weather is heating up heading into summer! Hydration is critical to stay healthy. I cannot think of a better product to spotlight than the Giraffe Bottle Hands-Free Drinking System. In 2020, I wrote a product review on this item. Over two years later, I am still using this product as my main hydration source.
I've enjoyed using the Original Giraffe Bottle Hands-Free System which features the adjustable modular neck, drinking tube, one-way check valve, and the Clear Tritan Bottle. This is my "go-to" bottle for everyday water consumption.
As summarized on the Giraffe Bottle website, the "Giraffe Bottle Hands-Free Drinking System is a product that allows users with various abilities to stay hydrated. The assistive hydration technology is designed to be flexible and easy to use, with accessories available to mount wherever needed."
Giraffe Bottle now offers some new bottles and accessories. In addition to the Plastic Clear Tritan Bottle, there is a Stainless Steel Bottle, which is insulated and keeps hot drinks hot for over 10 hours and cold drinks cold for over 18 hours.
There are additional modular neck and tube choices:
Giraffe Bottle Tower: hands-free drinking system is the original system with a rigid neck and integrated check valve.
Giraffe Bottle Tower XL: rigid neck, larger drinking tube than the original Tower, and a bite valve.
Giraffe Bottle Journey Hydration System: flexible drinking tube with a bite valve, includes a clip.
Accessories available, still include the bottle holder, with wheelchair rail bracket and the Aluminum Bottle Holder. In addition, there is now a soft neoprene bottle carrier with an adjustable strap.
I recently purchased the Giraffe Bottle Tower XL Starter kit. This included the journey flexible drinking tube with the bite valve and the larger rigid modular neck that accommodates the journey tube. Here is a side-by-side picture of the original neck and tube (4mm) I was using, next to the larger new neck and flexible tube (6.4mm), which I am now using.
The most noticeable difference for me is the bite valve. This feature allows the user to control the flow of liquid moving through the tube, keeps the water right up to the bite valve, and it doesn't leak. In my experience, taking a drink is much easier through this drinking tube. I don't have to exert as much effort to take a sip of liquid, as compared to the original one I was using. One safety item to note, the bite valve is removable and could pose a choking hazard for some individuals.