Gabriel Ryan, School Health Blog Writer and Contributor
"The broadest, and maybe the most meaningful definition of volunteering: Doing more than you have to because you want to, in a cause you consider good." Ivan H. Scheier ~ One of the true American pioneers of the field of volunteerism.
There are many reasons people volunteer their time and talents for what they consider a good cause. Volunteering, by definition, is a voluntary act of an individual or group freely giving time and labor for community service. There are so many opportunities to contribute within your local community and beyond. It may be hard to decide which organization or project you want to lead or participate in. Ultimately, gravitating toward a topic area of interest, or simply where an extra pair of hands are needed, allows you to connect with your community, network with others, and make a meaningful impact. A quick internet search on volunteering will bring up local, state, national, and international opportunities that are in-person or virtual. Time constraints or physical limitations for some people may mean the activity has to be modified in order to participate, but with an open mind and a creative spirit, there are volunteer opportunities out there for everyone.
I've enjoyed volunteering and helping others as far back as I can remember. I know how much I have benefitted in my life from receiving assistance from others. Generally, around the holidays I choose a larger volunteer activity to participate in. The holiday seasons bring additional events and activities looking for volunteers. A few years ago, I assembled 130 small candy bags to be shipped to active-duty military and veterans for a non-profit group called Soldiers' Angels in San Antonio, TX. This was quite a task for me given my physical disability, but what a great occupational therapy workout for both hand dexterity and hand-eye coordination. One-by-one, I placed each piece of candy into a treat bag knowing that someone serving our country would find a little joy in receiving a small token of gratitude. My grandfather and great grandfather served in the military, and I am honored to find ways to support our men and women in service.
School Health Blog Writer and Contributor, Gabe Ryan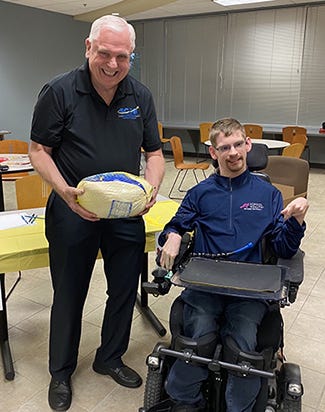 SCOE Turkey Drive 2022–Sacramento County Office of Education, Superintendent Dave Gordon and School Health Corporation, Blog Writer and Contributor, Gabe Ryan
One of the inspirations for this November article topic was my recent participation in the Sacramento County Office of Education (SCOE) Annual Turkey Drive. This drive is in partnership with the Friends of Folsom non-profit in support of the goal of feeding 10,000 families in our community through local food bank and distribution efforts. This is my sixth year participating. I really enjoy helping in organizing the event. Greeting the SCOE staff dropping off their turkeys is something I look forward to each year. More than two decades ago, I received early education services from the SCOE, Infant Development Program- some of the teachers that worked with me still work there today! Having the opportunity to represent School Health and our SH Cares committee and assist alongside SCOE staff on this community event is one of the ways I can give back and help others. This year we broke our record of the most turkeys received for this SCOE event!
I share my experience to hopefully encourage others to lend a hand where needed. We can all find ways to work together more. As Margaret Mead said: "Never doubt that a small group of thoughtful citizens can change the world. Indeed, it is the only thing that ever has."