Candy Corn and Jelly Beans: More Than Just Sweet Treats
Accessibility Switches Increase Access to Technology and More
There are many switches on the market for people who need alternate ways to access their computers, tablets, communication and mobility devices, toys, games, and other daily living activities. Figuring out which switches are right for your needs can be difficult. Comparison charts can be a helpful way to learn about a variety of switches and their features. These types of charts provide an easy way to review the switch type, activation type, activation force, type of feedback, size, color, and more.
A few switches I really like are the Candy Corn Proximity Switch and the Jelly Bean Switch. Both switches are highly sensitive to touch and activating them is very easy. Here is a bit more information on each.
AbleNet LITTLE Candy Corn 2 and BIG Candy Corn Switch
These switches use highly sensitive proximity sensor technology for activation. When the user is near or barely touching the activation surface, the switch will activate. When activated, an auditory beep and light appear. This feature can be turned off if it is not needed. A replaceable battery is included.
AbleNet LITTLE Candy Corn 2 Proximity Switch
Fits in the palm of your hand
Product Dimensions: 2-in L x 2-in W x 0.625-in H
Plug Size: 3.5mm mono (TS) plug
AbleNet BIG Candy Corn Proximity Switch
Activation surface is nearly two times the size of the LITTLE Candy Corn Switch
Product Dimensions: 3.85-in L x 4-in W x 0.58-in H
Plug Size: 3.5mm mono (TS) plug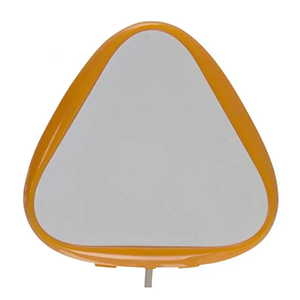 AbleNet Jelly Bean Switch
This AbleNet Jelly Bean Switch activates by pressing the top in any location. The color of the switch can be changed to red, green, blue, or yellow. There is a clear snap cap for symbol use. You can download the AbleNet Symbol Overlay Maker Application for free to create printable symbol overlays with access to thousands of symbols for devices and accessibility switches. The App. requires an iPad with iPadOS 13 or newer.
Activation surface: 2.5-in/6.4-cm
Product Dimensions: 3.3-in L x 3.3-in W x 1.05-in H
Plug Size: 1/8-in/3.5-mm mono
AbleNet remarkable ideas- using Jelly Bean and Candy Corn Switch is a five-minute video which provides practical and functional ideas on how these switches can be incorporated into the classroom and daily living activities.
I've had the experience of connecting these switches to an AbleNet Powerlink 4 Control Unit to control appliances independently, such as; turning on and off lamps, an oscillating fan, and even a handheld mixer (helping mix muffins) which was possible using either switch. They were both easy to operate. Positioning is always an important consideration when deciding on placement and switch access. Mounting or angling the switch might take a few trials to get it right.
A longtime friend of mine, Justin, also tried out the Candy Corn Proximity Switch. At the time, Justin was using switches mounted to his wheelchair near the sides of his headrest.
His mom explained, "For Justin, turning his head to the right and left is his most reliable and purposeful movement. Justin has a harder time turning far enough to activate a button switch. By positioning the Candy Corn proximity switch within his range of movement, he was able to access his computer games and switch toys without repeated tries."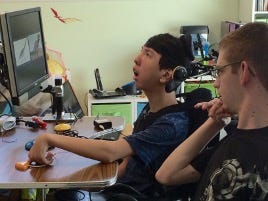 Judy also said that she liked the audio cue of the Candy Corn, which prompted Justin to move his head back to midline.
There are many benefits to using switches as they help people with limited movement to enjoy greater independence, improved self-esteem, communication with others, access to technology and computers, an increase in inclusion and participation at home, school and in the community.
School Health is an official US Distributor of AbleNet products. Visit the SchoolHealth website to explore these and other switches.